i am tired of removing 40gallons and then filling 40gallons every week. so i had done some research about making a auto water change system and there are not many posts about creating any system. i also had thought... the ocean stays stable constantly. so if i change a couple of gallons out a day my reef should be more consistent.



i for one do not feel justified in buying a $700 system for me just to be lazy. so i found on thread on reefcentral discussing the tunze osmolator for water changes..... so credit is do to scolley from rc for helping me think of a system. very simple... little cost system.


going to be more detailed.... just bare with me as i get this diy write up together.


so far from my post on rc.


okay.. it took me a little bit to figure out the dpdt 120v relay (i have automotive experience so i am used to spdt relays.) but i have succeeded
parts that i used:

dpdt 120v relay found at radioshack
2x4 project box radioshack
6 x screw connectors for quick connections radioshack
2 x ac cords (ac from aquacontroller jr and other from wall outlet)
ultralife auto top off (had this for a year or so great ato) or can get ato from aquahub for $50
maxi jet 600 for removing water
maxi jet 600 for replacing water
aqualifter 20 pump for ato
20 gallon tub (fresh ro and salt mixing station. also feeds the new water)
2 x float switch
tubing for the pumps i used about 10ft
as my control for the timing i use my aquacontroller jr, can use a timer, or anything that can give you a 120v output to activate the relay.



this is my waste water bucket. it has the float switch so that if a power outage occurs it can shut the system off if it starts to overfill.





this is the 20 gallon tub. i add my ro and salt here. a mag 2 mixes the salt and if the level gets low i can actually hear that annoying gurgle slurp noise reminding me to fill it up.





this is the project box. notice i have drilled a bigger hole for my inputs:
ac jr control
120v

float switches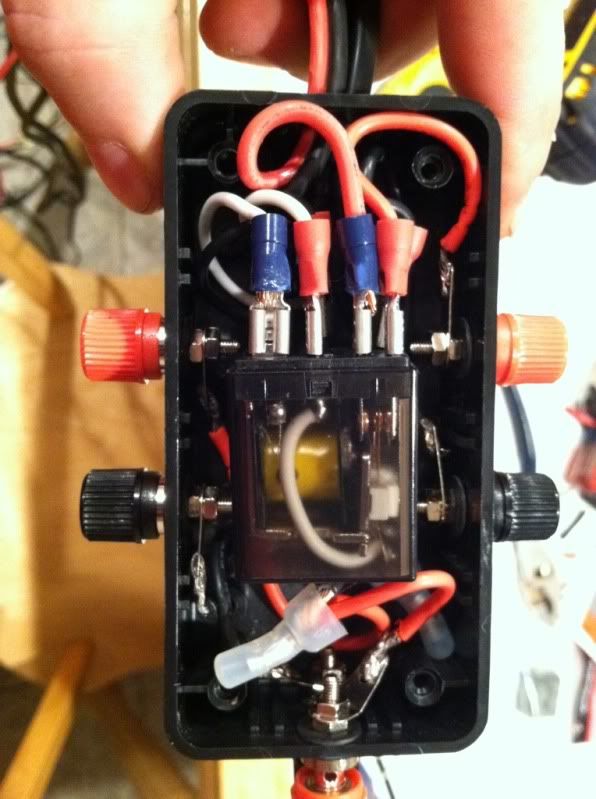 on the outside of the box are the quick connectors. each are for the ac 120v neutral and live wire that go to each output:
auto top off
new water
waste water
make sure you label these on the outside of your project box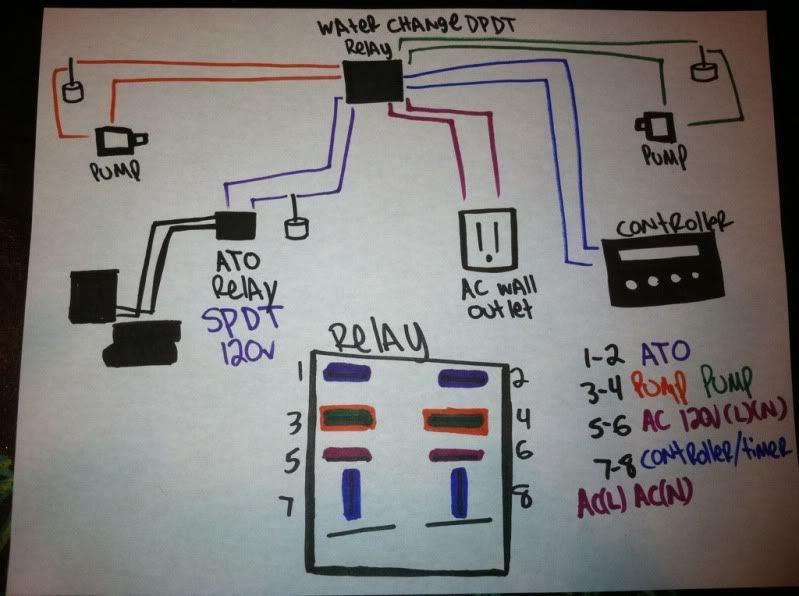 as far as connections go:
relay dpdt 120v
7 -8 input ac cord to turn on, ac jr. when in feed mode
5-6 input ac cord to 120v ac wall outlet
3-4 output to maxi jets in parallel(you must break this circuit using floatsw)
1-2 output ac to ato before relay that runs the ato unit.

in the project box i had split the to "hot" lines that go to the outputs for the maxi jets to got to float switches. this is to insure nothing overfills/spill etc.
i had at first ran the new water to the display tank but realized i need a stronger pump because of the amount of distance it has to travel. i did route the piping to run vertical and to be further above the surface of its destination. this solves the siphon issue.

i set this awc system to initiate only if the ac jr. is put into feed mode. the feed mode interval is set to 1 minute. this takes aprox 2 gallons out and puts a little more the 2 gallons in. this also obviously through the relay shuts the ato off for that minute. i am going to have to check salinity and fine tune but i think i should be ok.

thanks so much scolley... i have been searching for some time for a basic idea on this and you opened up the door. it is very easy just need some basic electrical knowledge.

****notes*****
As far power outage:
I have the outputs for the water change pumps controlled by my aqua controller jr.
I have to set the code on the aqua controller to be put in feed mode to activate the pumps.
During a recent power outage my controller reset the feed mode duration.
Power had came back on and
I had pushed the button for feed mode to operate my waterchange and walked away. assuming that it would only run for the minute I had set it up for.
Big mistake.....
I walked in to my fish room with 30+ gallons on the floor.
Then realized that i needed to add a float switch on both resevoir and waste buckets.
This way after a power outage if something resets it will shut the pumps off.


here is the original link for those interested:

http://reefcentral.com/forums/showth...+change&page=3
Edited by Mr btldreef - 11/28/11 at 2:09pm