Administrator
Staff member
Care
: The open brain coral (
Trachyphyllia)
is moderately easy to
care
for, they only need a lower moderate light and gentle water movement.
click pic for more details!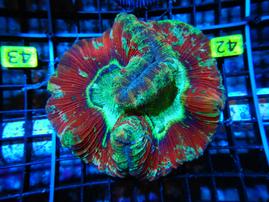 Open brain corals can be solitary or colonial.
[2]
They are free-living and exhibit a flabello-meandroid growth form, meaning they have distinct valley regions separated by walls. In colonial forms, the valley regions can contain multiple individual polyps. Complexity of valley regions can range; some are hourglass shaped while other cans be highly lobed. They typically have bilateral symmetry. During the day when the polyp is closed, the coral is covered by a mantle that extends beyond the skeleton, but can retract when disturbed. Polyps and mantle are very fleshy. Colonies can be red, blue, green, yellow, brown, and are often vibrantly colored.
[4]
[5]